Intelligent Sensors
A sophisticated range of intelligent sensors that deliver 24-hour environmental intelligence, streamed through our high-speed networks.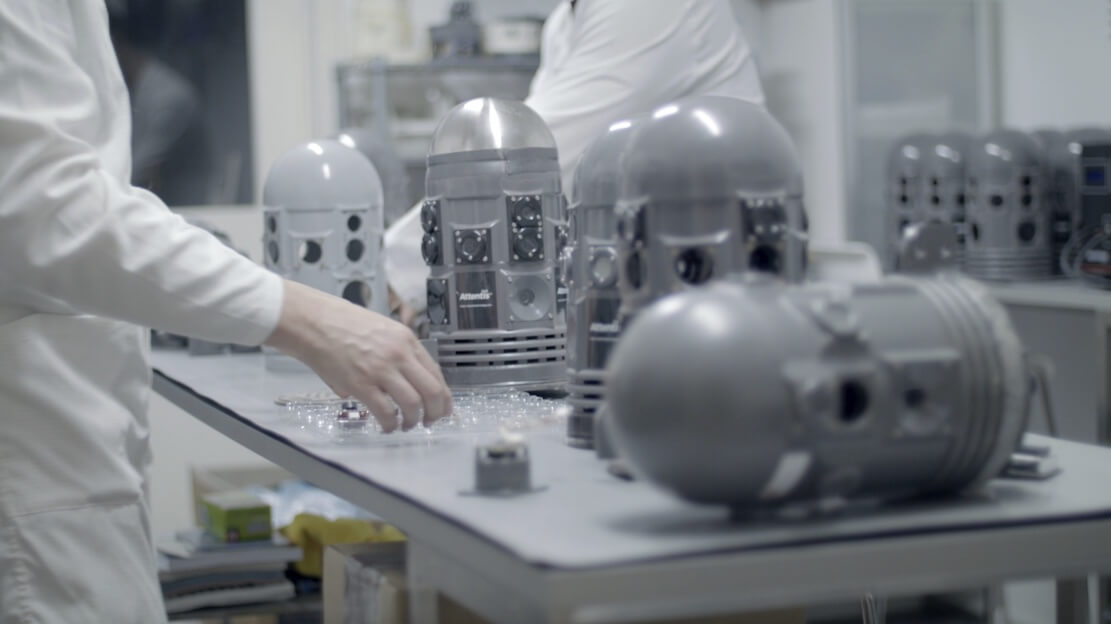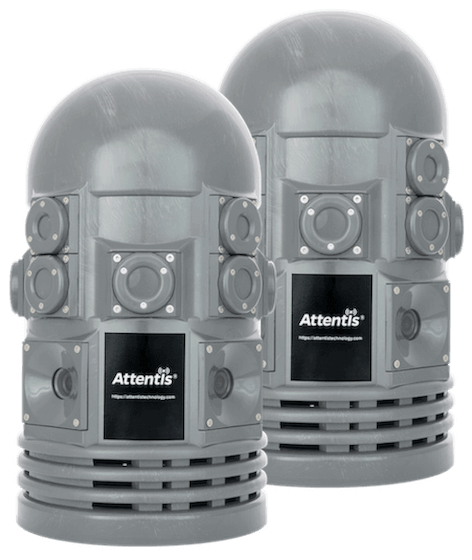 Attentis® has invested years of research and development to create robust, multi-sensing devices, engineered to an unparalleled standard. Our range of sensors provide comprehensive corelated information, allowing users to understand how changes in their environment lead to impacts in health, systems, assets and critical infrastructure.
Our intelligent sensors detect, measure, analyse and transmit detailed information including air quality, weather, noise, fire ignition, water quality, ground and structural movement, noise, asset condition. Sensing capabilities are supported by live images, hi-definition video streaming, thermal imaging and equipment automation.
Early detection and notification detailing the type of threat, fault or threshold breach, supported by live conditions and on-site images enables rapid investigation and ongoing situational awareness.
Comprehensive sensor information is seamlessly streamed through our high-speed wireless networks maintaining a real-time picture of locations and regions to improve safety, health, efficiency, productivity and awareness. Our technology engages users from multiple industries, agencies and organisations to understand the impact of events, improve prediction capabilities and remotely manage natural resources, assets and critical infrastructure.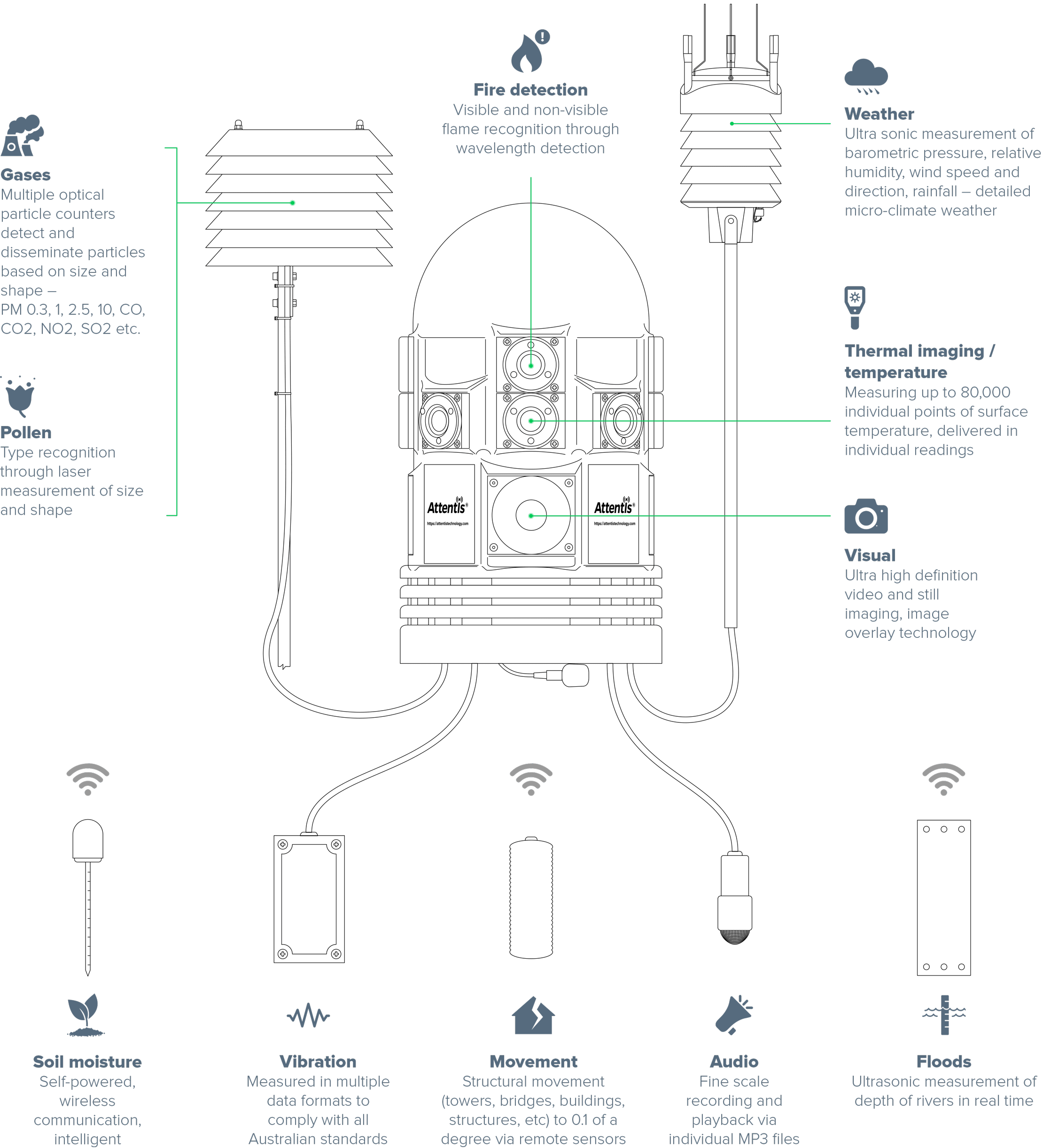 Sensor Networks
Attentis® intelligent sensors can be installed as a single stand-alone unit to address an issue, monitor a particular asset or location or be installed in multiple locations to form a fully integrated intelligent network.
When configured as a network, our intelligent sensors operate as a collective, correlating information throughout the network to provide unparalleled situational awareness and understanding.
Long Range Detection
Attentis® power line, forestry and infrastructure sensors are engineered for long-range, remote detection of events (e.g. fire starts, wind impacts, structural), protecting areas with limited or no access during catastrophic events.
Hi-res Visual / Thermal Cameras
Attentis® sensors provide real-time thermal and visual imaging to detect hot spots, movement, intruders and changes in equipment temperature that can lead to faults and outages. 360° time lapse video and still image recording is available in all units.
Mission Critical Communication Technology
Attentis® sensors and integrated networks are designed for mission critical applications. Featuring patented multi-communication technology, information can be streamed through multiple sources to ensure information is delivered regardless of changes to environmental conditions or loss of local communication networks.
Robust Construction
Attentis® sensors are constructed using a composition of fire, shock and UV resistant polymers and include multilayer protection. Our sensors feature unique operational capabilities to ensure continuous operation in the harshest of environments. The robust confidence and reliability of our sensors make them the natural choice for locations experiencing extreme conditions.
Portable
Onsite conditions play a critical role in the management of an event or critical infrastructure. To support this need, Attentis® manufacturers portable R9 units, engineered to stream onsite conditions and images to aid effective decisions through elevated situational awareness.
When powered, Attentis® portable units instantly appear on an Attentis® interface allowing live tracking of events and conditions as they unfold.
Low-maintenance
Designed for installation in remote, often inaccessible locations, all Attentis® sensors feature low maintenance components including specially developed lenses and intelligent operating systems that feature back up redundancy.
Our sensors are designed to maintain operation in the harshest of environments and be able to withstand impacts and component failure and still maintain operations.
Pro-active Monitoring
Sensors maintain a continuous connection to Attentis® administration, providing ongoing status and operational information. Known as 'heartbeat technology' a complete technical diagnosis every minute maintains complete awareness of the operational status of every unit, regardless of global location.
Attentis® monitors all of its networks to ensure components; sensors, interfaces, applications and connectivity, function continually through the lifecycle of the network.
Made in Australia
Attentis® manufactures all sensors and network components at its manufacturing facility in Victoria, Australia. In 2019 Attentis® networks were recognised as the most technologically advanced data transmission networks in Australia, receiving the 2019 Australia Smart Cities Award – Regional, the Australian IoT Award 2019 - Best Government Project and The Australian IoT Award 2019 – Best Overall Project.
latrobe valley information network
"A piece of essential digital infrastructure."
Our sensors can be deployed at any strategic place, working 24/7 without any interruption.